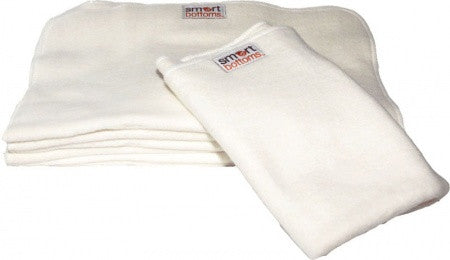 Smart Bottoms Smartfold Organic Prefold
Our Smartfold is not like any other prefold you have tried! Made with organic cotton and hemp, these super soft, fleece diapers are the perfect option for a heavy wetter.


Material Contents
45% Organic Cotton | 55% Hemp

Care Instructions
Prep diaper before first use by washing 6-8 times. Test the absorbency by pouring water onto the dry diaper; it should absorb instantly. If it does not, wash a couple more times and try again. The number of washes required to properly prep the diaper depends on the type of washer and detergent, as well as the hardness of the water. Wash and dry warm. Do not use bleach or fabric softener.
Features

Small : Fits children 6-16lbs best or may be used as a doubler on a bigger child.
medium : fits children 16-24lbs
large: fits children 24lbs+ 
2x3x2 allows for optimal absorbency.
May be used with any cover/pocket diaper.
The perfect nightime diapering solution!
---
We Also Recommend
---