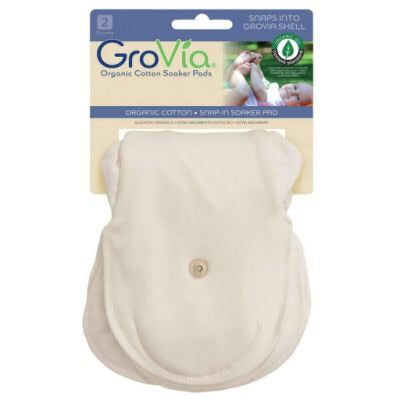 Grovia Organic Cotton Soaker -2pk
Want only soft, IMO-Certified Organic Cotton jersey touching your baby's skin? GroVia Organic Cotton Soaker Pads are truly pure and natural. A "two-ply" design speeds dryer time, true elastic leg gussets contain messes, and a waterproof backing keeps your GroVia Shells clean and dry. Snaps perfectly into place from 8-30+ lbs. Pair each 2-pack of Soaker Pads with one GroVia Hybrid Cloth Diaper Shell.

Pack includes 2 Soaker Pads
Snap into your favorite GroVia® Shell.
Change Organic Cotton Soaker Pad as needed and Shell when soiled.
Preparing Soaker Pads & Boosters
Wash hot with detergent, tumble dry, repeating this process 5–6 times before use (they will continue to gain absorbency with more washing).
General Washing
Remove as much solid matter as possible.
Place soiled shells and soaker pads in a dry diaper pail – No soaking necessary.
Wash every 2 days on warm with detergent.
Hang dry shells (high heat causes excess wear).
Tumble dry low soaker pads and boosters.
Do NOT use bleach, enzyme cleaners or fabric softeners.
Inner Body: 5 layers of 100% IMO Certified Organic Cotton
Leg Gussets:  88% Polyester, 12% Organic Cotton
Outer: 100% Water Resistant Polyester TPU
Fairly and conscientiously made in China.
---
We Also Recommend
---