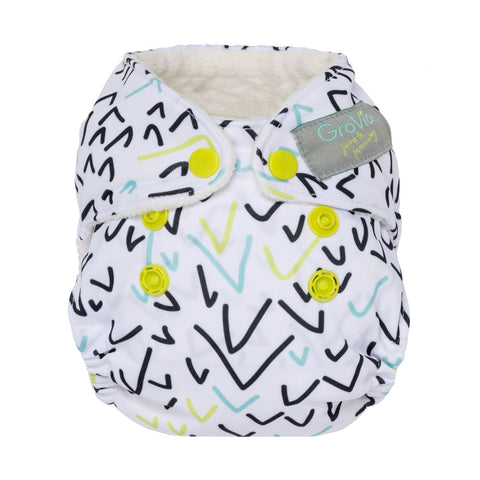 Grovia - Newborn AIO cloth diaper -Ballot
Our New Style Newborn AIO Cloth diapers were designed to specifically meet the needs of newborn babies. A trim fit, soft materials, and easy use make these our top-selling diapers for the tiniest bundles!
Features Include:
Turned and top-stitched design
Hourglass shaped internal soaker with 2 layers of hemp/cotton
Encased leg elastic
Quick-dry external soaker with 3 layers of hemp/cotton, topped with micro fleece
Buttery soft stay dry polyester micro-fleece
No Cover Needed
Made fairly & conscientiously in China
Fits most newborns 5-12+ lbs.
Inner: Sewn in Soaker Pad 55% Hemp/45% Cotton topped with 100% Polyester Microfleece
Body Lining: 100% Polyester Microfleece
Hidden Inner Body Layers: 55%Hemp /45%Cotton
Outer: 100% Water Resistant Polyester TPU
Diaper Preparation
(This is an important step… don't skip it!!)
Wash hot with detergent and tumble dry, repeating this process 5–6 times before first use (they will continue to gain absorbency with more washing)
Washing
Remove as much solid matter as possible.
Place soiled diaper in a dry diaper pail. No soaking necessary.
Wash every 2 days on warm with detergent.
Tumble dry low.
Do NOT use bleach, enzyme cleaners or fabric softeners.
---
We Also Recommend
---