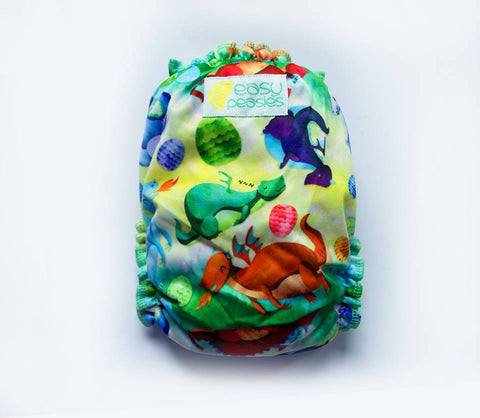 Easy Peasies One Size Pocket Diaper - Honalee
 In The land of Honalee, lived a family of cute dragons! Fire breathing but O so friendly, the cute little guys are the perfect addition to your stash!
Available in NewBorn Lil' Squish, All In One and Pockets! 
Use from birth to potty training- 6 sizes in just 1 diaper fits from just 6 up to 40lbs. The waterproof stuffable pocket cover is economical and functional. Our most chosen one size option option. Made in Canada.


What's Inside



Super stretchy PUL (outer fabric) forms to fit your baby to a T. The softest of stay dry micro fleece inside keeps your baby comfy and dry while pulling wetness away and into the insert. Inner wetness channels keep messes in the diaper where they belong. Gentle elastics won't chafe or mark your baby's skin like other brands.



Colors & Snaps



Offering you 6 sizes in 1 the Pocket Cover is the most versatile diaper by Easy Peasies. Covering newborn, and sizes 1 through 5 (compared to disposables) the 3x4 rise adjustment snaps, and two rows of waist snaps give you a truly customizable fit. By adding a 2nd row of waist snaps we've given you the ability to stagger the fit, so you can leave more space for chubby legs if needed without loosening the waist. Crossover snaps on the hip allow you to get a tiny fit for newborns and double as a means for easy tuck, roll and snap shut for dirty diapers.


---
We Also Recommend
---