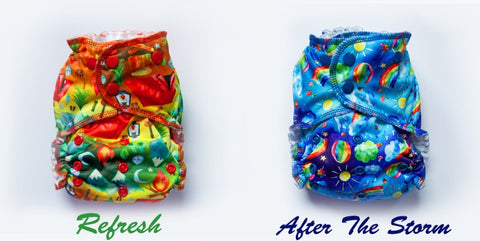 Easy Peasies Mini Pocket New Born Diaper -Refresh & After The Storm
The Easy Peasies® Little Squish™ Newborn AIO (All in One) diaper is designed specifically for your brand new baby and adjusts to grow as they do, up to 15lbs.
You should spend the first few months cuddling with your newborn. We've designed a diaper that gives you more free time to do just that.
The Little Squish™ AIO Design has everything your little one needs. A waterproof outer shell to keep you both dry, 4 layers of sewn in hemp with microfiber absorbency for fast and long-lasting leak protection, and a soft fleecy inside to keep sensitive skin protected against rash-causing wetness.
Because we know you want to get your baby into cloth diapers as soon as possible, The Little Squish™ diaper features a snap down umbilical cutout to prevent rubbing or chafing on sensitive tummies.
Inner wetness channels, leg elastics, and a gentle band in the back help keep messes inside where they belong- meaning fewer outfit changes, and less laundry than with disposable diapers*.
Babies grow quickly, that's why we've added a new built in pocket system allowing you to add absorbency for when your baby still fits the newborn size diapers, but needs more wetness protection. Available in a bundle that includes a Made-in-Canada snap in bamboo booster.
Our Little Squish™ diapers are designed in Stanley, New Brunswick and Made in Canada by our professional team, using imported as well as domestic materials.
*as reported by parents who've used both
---
We Also Recommend
---