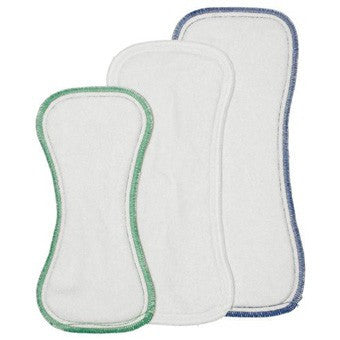 Best Bottom Bamboo Inserts
Made with 6 layers of silky-soft bamboo viscose; These inserts are made to fit the Best Bottoms Shell cover.



Here are some quotes from our
Bamboo Insert testers:

"I've been happy with them (bamboo inserts) and if you rewound time and I was back at building my stash for the first time I would have chosen the bamboo..."

"The first response when opening up the package is that the inserts were so silky soft! What stood out even more was how pliable they were. It felt like they would be great at moving around with a toddler or crawler."

"After prepping, they kept their nice pliability and super softness."

"Very trim in diaper, seemed to hold quite a lot, still pliable and soft."
Sizing is approximate and will depend on size and shape of baby as well as how heavy of a wetter.

Small: 11" (Birth - 14 lbs.)
Medium: 12.75" (11 - 22 lbs.)
Large: 13.75" (16 - 35 lbs.)
---
We Also Recommend
---