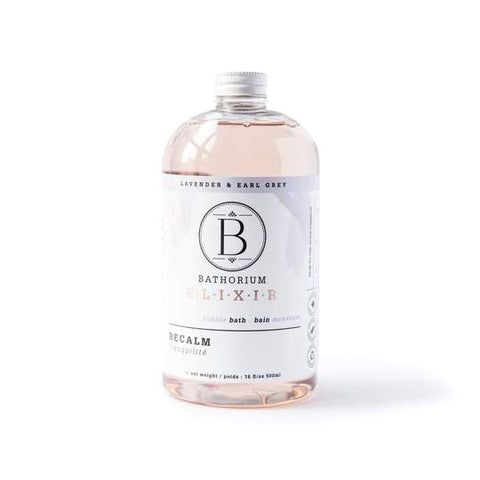 BeCalm Bubble Elixir (500ml)
LAVENDER &  EARL GREY TEA INFUSED BUBBLE BATH OIL
Allow the soft scent of organic lavender and delicate earl grey tea to create a creamy tub of bubbles and send you right to a sleepy abyss. 
Green, clean and natural bubble bath formulated without the use of harsh surfactants and detergents. Frothy long lasting bubble bubbles that elevate your bath time to the next level. 
Each 500ml ELIXIR bottle will run approx 20-25 baths
Notable ingredients:
+ Earl Grey tea: Just like when you drink it, Earl Grey tea in your tub can help you calm and relax your senses and is packed with antioxidants
+ Bergamot oil: A natural pairing with Earl Grey tea, not only will this sweet and citrusy smelling oil brighten your mood, but it will also help clarify and balance your skin 
+ Lavender essential oil: The quintessential sleepy scent, Lavender is known to calm and help promote a quality sleep
Organic Earl Grey Tea Infusion (Camellia Sinensis and Citrus Bergamia and Aqua)*, Coco Betaine, Coco Glucoside, Sea Salt (Sodium Chloride), Gluconodeltalactone (and) Sodium Benzoate, Sodium Citrate, Organic Lavender Oil (Lavandula Angustifolia)*, Organic Neroli Oil (Citrus Aurantium)*, Organic Bergamot Oil (Citrus Bergamia)*
*certified organic
Step 1: Begin filling tub with warm water, optimal temperature 38° C.
Step 2: Add 2-3 TBSP of Elixir under running water.
Step 3: Get naked.
Step 4: Get in. You've earned it.
---
We Also Recommend
---