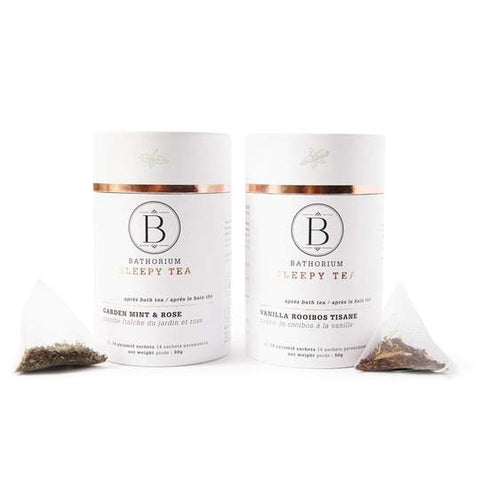 Après Bath- Sleepy Time Pyramid Bagged Tea - Vanilla Rooibos Tisane
Vanilla Rooibos Tisane Herbal Tea 
(14 pyramid tea bags per tube)
This liquid lullaby features notes of smooth vanilla chocolate, golden strands of calendula petal and south African red rooibos. The perfect way to drift into the sleepy abyss. caffeine free! 
Hints of: Vanilla, Chocolate
Perfect for: Sleep
Notable Ingredients:
+ Rooibos: This flavourful, caffeine-free alternative to green and black tea is filled with antioxidents 
+ Cacao: Rich in polyphenols, cacao is an anti-inflammatory and antioxidant-rich
+ Calendula petals: Heals and soothes while aiding in digestion
INGREDIENTS:
Vanilla Rooibos Tisane Herbal Tea 
rooibos, cacao, calendula petals.
no artificial flavours. 
HOW TO USE:
1. Steep tea for 3-5 minutes in 100° water
2. Enjoy during or after your tub to slip into a relaxing detoxifying slumber  
---
We Also Recommend
---