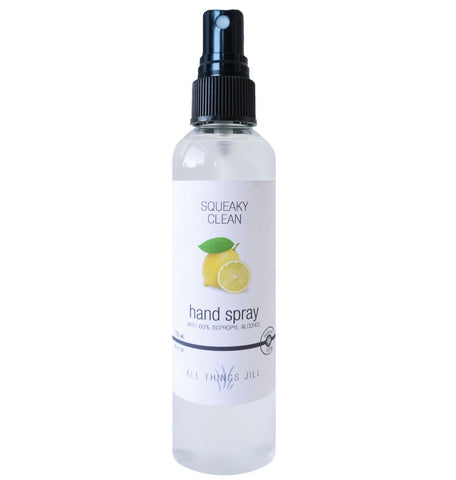 Squeaky Clean Hand Spray (125 mls)
This all-natural hand spray is great when you're on the go! It contains 60% Isopropyl alcohol (99%), and essential oils of lemon, tea tree, thyme and clove, all known to be anti-bacterial and anti-microbial. With plenty of aloe vera juice in the mix, this spray is not as drying as pure alcohol, so you can feel good about using it as often as necessary throughout the day. A fresh-smelling way to cleanse hands when handwashing is not an option.
INGREDIENTS: Isopropyl alcohol 99%, Aloe barbadensis (aloe) leaf juice, Aqua, Polysorbate20, Citrus limonum (Lemon) oil, Eucalyptus radiata (Eucalyptus) oil, Melaleuca alternifolia (Tea Tree) oil, Syzygium aromaticum L. (Clove Bud) oil, Thymus vulgaris (Thyme) oil.
125 mL - IMAGE NOTE: We are putting this product in many different bottles as we go. Supply changes every day. Rest assured that the label is the same, and the product in the bottle is the same, however it may arrive to you in a clear bottle, brown bottle or green bottle!
---
We Also Recommend
---